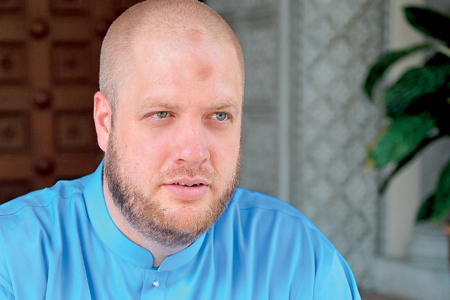 Ustadh Suhaib Webb was born in 1972 and raised in the State of Oklahoma, USA. During his teens he became a Hip Hop DJ and made many records with different artists and bands. Suhaib Webb converted to Islam at the age of 20. He completed his degree in Elementary Education and served as Imam for the Islamic Society of Greater Oklahoma City. He moved to the Bay Area and is currently in his second year of studies at Al-Azhar University in Cairo. While in the States Ustadh Suhaib

works with MAS at many local and national levels.
I very recently came across this brother (3 days ago) and I loved all his lectures and speeches so far. He has a very (yo yo yo) attitude when it comes to talking which is so weird to hear when one discusses islamic matters haha. I guess I've been brought up with the notion that all scholars and sheikhs are these rigid boring people that speak in ye olden language.
Here is an amazing lecture revolving sins and the reality of humans being far from perfect.
His Egyptian accent is wicked haha
Suhaib Webb - Revenge of the Fallen